by admin ,October 18, 2017
The mobile app market is mushrooming with every passing day. And along with it, the competition and challenges of developing a unique app and meeting the demands of the customers are increasing too. Reports say that around 90% of app users stop using an app after three months its installation. These numbers are startling and it raises the question as to where the app developers are lagging and why this rate is something that both the mobile App Development Companies and client should be worried about.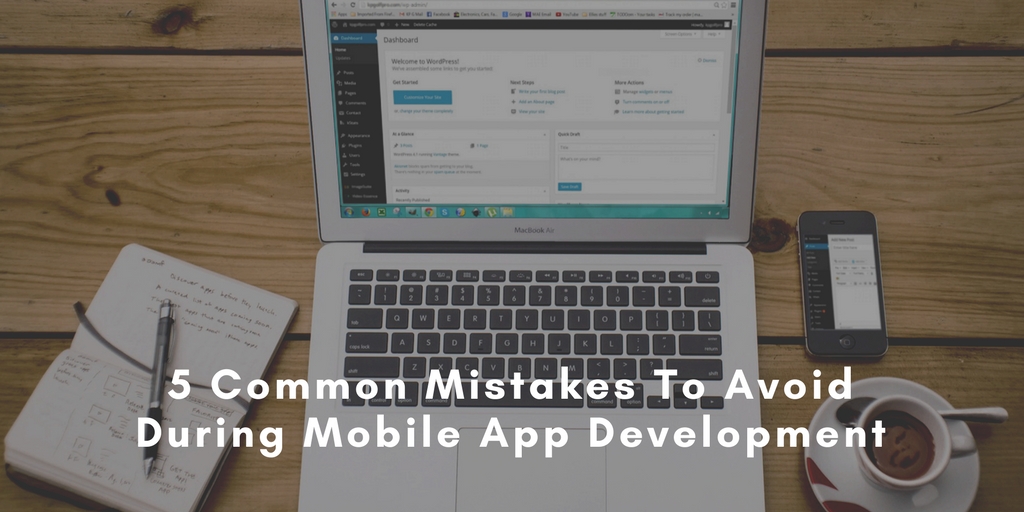 Today more and more businesses are creating mobile apps and relying upon them to promote their services and products along with making it a medium to reach out to their prospective clients. This is what makes it a matter of concern as apps would be something that would reflect a particular business and that's why it has to have a longer shelf life.
Well, if you are such an app developer or a business entrepreneur who has an innovative app idea and is considering to build a mobile app then below are some common mistakes you should avoid while developing a mobile application:
Never Ever Underestimate Mobile App Marketing:
So you have developed the greatest app in the world and you believe that it would rank the charts. But, if you don't market it well, then it's doomed even before you launch it. Your app is not going to sell itself. You need to market it efficiently for your customers to know that your app exists. As the mobile app market is getting competitive day-by-day, companies are coming up with robust marketing strategies even before launching their apps in the app market.
Marketing is that leap you need to take before you dive into the ocean of app market. Launch your app marketing campaign even before you submit your app to the app store. Define your target audience, devise an omnichannel marketing strategy around it and launch it before you launch your app.
Brimming the App with excessive features:
On average, an app loses its customer within the first three days of its installation. One of the reasons behind it is packing it with too many features. Well, the sole purpose of developing an app is to make your users aware of your products and services and if the user finds it difficult to comprehend it then there is no use of developing it in the first place. You might have too many ideas and features for your app but remember that not you but your users are going to use your application. Your app should always be user-friendly. Yes, you must have loads of features but try to focus on the key features and add few of them first and then add others in the form of app updates. This will make your app more interesting to the users.
Avoid Complex UIs:
Yes, as a developer you might want to develop an app with exceptional UI and UX. But remember that not every user out there is tech savvy. Users are always looking for applications that have seamless navigation and which doesn't require too much brains to use it. Your app should be easy-to-use where users wouldn't have to use a guidebook to operate it.
However, if you do want to develop an application with complicated UIs, then it's advisable to include a "how-to" section in your application so that your users would have somewhere to turn to when they get stuck while using your application. Also, remember to keep the UI of your application consistent even if you are going to release updated versions of your application. All in all, you should try making a simple app with clear functions for the end user.
Building for too many Platforms:
Developers and Appreneurs need to understand the fact that developing for more platforms does not mean higher ROI. When you develop the first version of a mobile app with too many features and for more mobile platforms you might end up with high upfront costs. For example, let's say that you launched your application on three different platforms and after the launch the app needed few changes – it might be in design or functionality. What would happen is, you have to make changes for all the three platforms which would double your development time and cost. Hence, when starting out focus on only one platform and when you have made your mark in the app market go for the other major OSes.
Mobile apps should not imitate Websites:
Companies must understand the difference between having a mobile app and website for their business. As an app developer, you should make your client understand the vast difference between the features and functionalities of a mobile app and a website. A mobile app should not be smaller or downsized version of a website or offer the same functionality instead it should be a better and improved version of a website.
Hence, when you plan to integrate mobile apps into your business make sure that you understand what your customer needs and demands are as well as understand the metrics that influence the overall app success.