by admin ,October 27, 2017
As stated in a recent survey, it is predicted that by 2018, the mobile app market will reach the mark of $62 billion. And presently, the mobile app market is trending with the development of custom apps. Custom apps are particularly built for a specific organization where the app is built completely or partly to the business's objectives. The custom apps are developed by integrating various elements that are subjected to the end users requirements.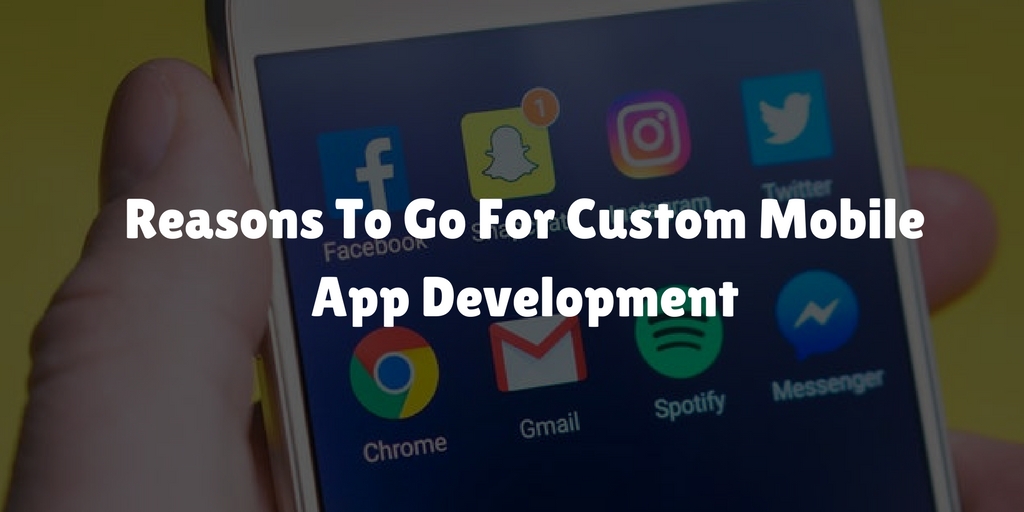 Where the majority of the organizations are using custom mobile apps, 7.5 hours per employee per week used custom apps to streamline their work and 75% of the organizations have gained a competitive edge over their competitors and also generated additional revenues for their business. According to CDW, the majority of the businesses are making use of custom mobile apps to support communication, data access, and sales support. That being said, let's look at some benefits of why you should go for custom Mobile Apps Development for your business:
Cater to your business needs:
You will find many ready-made app solutions in the market but the possibility of finding an application that suits your business requirements is little to none. Every business has their unique requirements, and custom mobile apps are built in accordance with these "unique" requirements. This would indirectly add to your investment and optimize employees' productivity.
Streamlines the project management process:
Custom mobile apps for business enable you to keep real-time track on project development and deadlines. At the end of each development phase updates can be sent and billing cycle can be maintained for all phases of the project.
Improve your Customer Relationships:
Custom mobile apps can help you engage your clients with your products and services in an easy and effective manner. You can send your clients real-time updates related to your services and products. In addition, customized mobile apps give easy access to your customers' details and reviews. When you go for customized mobile apps, you have total control on your business application without any further dependencies.
Integrate more Features:
Custom mobile apps let you integrate the services of your existing systems into one centralized application. This would enable you to improve the performance and functions of your enterprise.
Cost-Effective in the long run:
Yes, the relevant costs of custom mobile app development tend to be higher than that of ready-made apps but when you consider the relevant ROI on the custom apps it tends to be higher than the off-the-rack ones. As the custom application is tailored according to your business requirements you wouldn't have to worry about any license costs or app training.
Improve your Data Security:
In general, ready-made app solutions do not have specialized security features in them which are risky for any business. And for custom apps, as they are exclusively developed for a business the relevant security measures are taken into consideration which increases the overall data security of the application.
Accessibility to the in-progress project:
With custom mobile apps, you get real-time access to in-progress projects where employees and other team members can get easy access to live reports and documents and can also share with each other. Moreover, retrieving and sharing of contracts and documents with the clients also becomes easy with customized applications.