by admin ,November 10, 2017
In the last blog, we learned about an aspect of mobile app marketing i.e. ASO (App Store Optimization) and how you can leverage it to boost your app downloads on the app store. In this blog we will see more elements of ASO for boosting app downloads:
Previously, we covered app name & keywords, app name format, app name length, app subtitle, and app description & keywords. Here we will learn more about what to include in an in-app description and other ASO elements: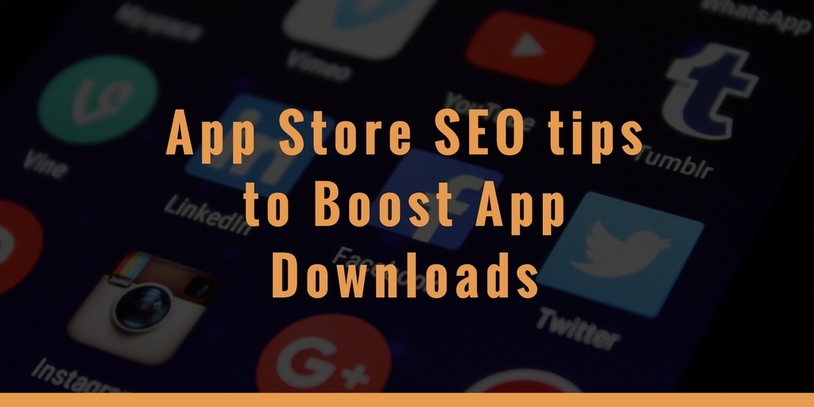 App Description – the first few lines
According to a survey, only 5% of Google Play Store users, actually click on the "read more" given below the short app description whereas for Apple App Store users it's only 2%. This implies that every single character you write in the app description matters. Make sure that your content is brief, precise, and interesting. Never include blank spaces or lines or broken sentences in the app description. See that you include the unique functionality of your app so that your users get the gist of what your app is all about. Also, do not skip on adding a call-to-action button or text.
App Description – The Detailed Description
In the detailed app description, you must lay emphasis on the best features of your application. If possible try to add your content in bullet points as they are quite easy to read. Also, add your social media links in the app description and if your app has received any accolades or honors, add that also.
If you have decided to release your app on the Google Play Store, then you will be pleased to know that it enables flexibility of formatting and use of emoticons in the app description. You can leverage this to fabricate a decent app description that sticks out from other app descriptions. See that your description conveys as a way of pitching for your brand as this could speak to a wider audience base.
App Description Length
After reviewing about many top-ranked apps on the Play store and App Store it has been ascertained that 90% of top apps use more than 589 characters in their app description and 90% of top apps use less than 3385 characters.
Well, it generally doesn't matter that much but still, it's good if you do not exceed the number of characters in the app description.
App Promotional Text
Well, this element of ASO is available on iOS 11 only. Here, developers can add a promotional text for their app limiting up to 170 characters. Also, know that this promotional text does not get indexed in the app store search and you can tweak it anytime you want without waiting for any app updates or anything else.
App Icon
An attractive and decent icon can boost your app downloads up to 560%. Your app icon should be such that it leaves a lasting impression on your user's mind. As you get very limited space to experiment, see that you don't overcrowd the space with too many design elements or words. Also, remember that your icon should look good when its size is downsized as per the requirement of App Store / Google Play as well as against both light and dark colored background.
App Store Keywords
When it comes to coming up with app store keywords then you should at least create around 50 keywords and there are several tools available which you can use to come up with new keyword ideas. Make sure that you use keywords that are relevant to your app and not that are in trend.
Once you segment your app store keywords you need to decide upon an approach to optimize the right keywords. You can make use of keyword research tools to help you with the keyword optimization.
App Store Keyword Optimization
App store keyword optimization approach for both App Store and Google Play are:
For App Store: You have to fill in the keyword metadata with the keywords that you have selected. This metadata will influence how your app gets identified in the App Store. You should: use maximum 100 characters, use a comma after every keyword, hold off on using articles, prepositions and spaces, never repeat a keyword, and make use of numerals instead of spellings.
For Google Play: There are no keyword metadata in Google Play as Google draws out keywords from your app description. Make sure that you add your keywords in the app description in simple and sensible sentences. Remember that the keywords you use in the first few lines of the app description hold more importance (for the Google's ranking algorithm) then the rest of the app description. Hence, use your primary app store keywords in the first section of your app store description.
Hence, we saw 7 different elements of ASO (a Mobile App Marketing element) and how it can help you boost app downloads. Well, there is more to ASO and we will discuss more it in the next blog. Till then, implement this if you are writing your app's description.