by admin ,December 8, 2017
Are you are an e-commerce site owner who has been witnessing a considerable drop in the number of active users? If yes, then you should definitely consider going mobile. If you still haven't considered taking your business on the mobile platform then you certainly are living under a rock. Smartphones today are the biggest platform that technology has to offer for viewing, sharing or receiving information and mobile apps too have become a staple totally transforming the way we live our lives today. Before few years both Smartphones and mobile apps were an added luxury for web-based businesses but today they have become critical for increasing user engagement and staying ahead of the competition.
According to stats, a normal person spends an average of 5-6 hours daily on their mobile phones where they are usually scourging through apps. And hence, for the e-commerce businesses out there not leveraging this platform would be like kissing goodbye to a large customer base and great sales. Mobile apps give the e-commerce businesses an opportunity to be in front of their customers 24/7 and that too on their fingertips. Well, that being said, let's look at some benefits of developing an E-commerce Mobile App: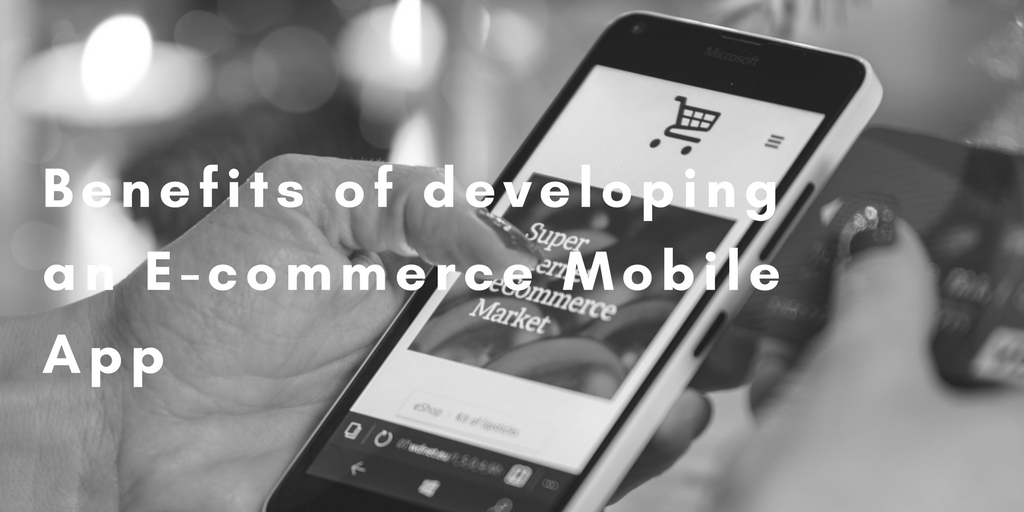 Mobile Browsing is thing of the "past"
Around 78% of users prefer using their favorite e-commerce sites through e-commerce mobile apps instead of mobile browsers as they don't have to memorize any URLs or open a browser to access and navigate a website. When installed, mobile apps would give your users instant access to your e-commerce services & products (super fast) altogether eliminating any added time and effort they used while browsing through a browser.
Improved User Experience
Through an installed e-commerce app users can store important information such as login credentials and payment information where this natively stored data can help them place instant orders when necessary. All they have to do is open the app, search the product they want and make their purchase.
Moreover, mobile apps would give the developers more control when it comes to user experience. They can create powerful and unique interface according to user's specific devices.
Push Notifications
Push notifications are perhaps the fastest and the most effective way of connecting with the users where you can deliver a more streamlined and personalized experience to them. You can easily inform your customers regarding any special sales, discounts and even about new products with the help of the push notifications. The users just have to tap on the notification to go to that particular sales or offers page and can make their purchase.
Easier, Faster and Secure Payments
By integrating secure payment gateways into your e-commerce application you can help your users make secure payments for their respective purchases. You can even program your app to remember user's payment information so that users can make their purchase with just a few clicks (instead of having to enter credit/debit card details every time they wish to buy any product). Secure payment options are one of the most critical aspects of an e-commerce app hence make sure that you pay attention to this module while developing your app.
Brand Loyalty & Loyal Customer Base
The term "marketing at its finest" holds true for mobile apps which gives you an opportunity to be in front of your customers all the time without having to spend a single penny on advertising. Whenever any user is using his/her phones your brand's logo or name will be visible (like a flashing neon board) compelling them to consider your services while making any new purchase. Not only this, they will also be more likely to recommend your app to their friends and family creating a strong brand connection and getting you a loyal customer base.
Offline Availability
One of the major advantages mobile apps can give your e-commerce business is 24/7 visibility. Any user when installs your mobile application on their respective devices has the flexibility to view your products and services even when they don't have an internet connectivity. Yes, they won't be able to make the actual purchase but can definitely add the products to their wish lists or carts for later purchases.
Hence, now you know what a mobile app can do (actually wonders!) for your e-commerce business. So, stop second-guessing and start working on your exceptional e-commerce mobile app.