Mobile app development is an essential thing for business growth in today's times. To get customers, to engage a new audience, mobile apps can be used. The mobile apps you build should give a clear idea about the business concept and its model.
Many mobile app development companies in the market give customized solutions tailored to meet the client's expectations. The main purpose or the reason to have the mobile app development for the business is to attract new customers and engage the existing ones.
– In 2025, there will likely be 258 billion mobile app downloads, a 45% increase from 2017.
– Due to the rise in mobile app usage, the industry projects that client app spending will reach $156 billion and beyond in 2025.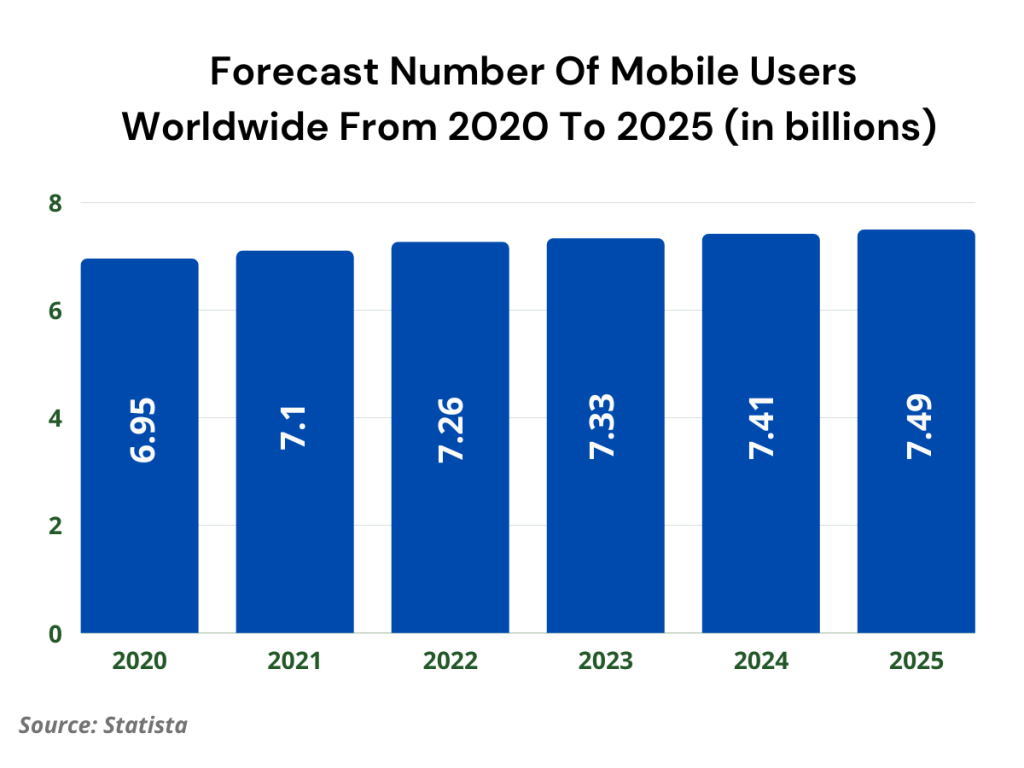 After these insights, it is easily justified why mobile app development is required for business growth.  Without mobile apps, the growth in the business will be lesser compared to the companies with mobile apps.
Top Benefits of Mobile App Development for Business Growth
There are several advantages of mobile app marketing, here we will list a few necessary ones.
Access from a Variety of Platforms
The known fact why every business wants to have mobile apps is that it gives easy access from various platforms. The creation of apps helps businesses reach markets through social media platforms as well as App stores such as Google Play and the Apple App Store. Apps can also send information to users, evaluate features, offer discount codes, and send mandatory notifications.
A Global Reach
Mobile apps are definitely the medium for global reach. They give an easy transition for businesses to make some space in mobile phones. Mobile apps support the development of an effective app marketing strategy and enable firms to connect with a broad target audience. The apps are effectively working without any boundary restrictions.
Growth In Accessibility
Additionally, mobile apps contribute to improving company accessibility. It also makes it easier for firms to build solid relationships with their clients, fostering both genuine clientele and greater client loyalty.
Mobile apps enable consumers to have practical access to the goods, data, procedures, and services they would need in the present. Apart from that, it gives the company the ability to notify customers about new or modified goods and services.
Some mobile apps carry out basic tasks even without an internet connection. Hire mobile app developers to build apps that substantially improve workplace accessibility.
Enhances Brand Recognition
Mobile apps are the simplest way to enhance brand recognition. Brand awareness is crucial when achieving the top spot is a company's ultimate goal. Companies may quickly provide their customers with high-quality services by creating a mobile app. The successful mobile app gives a standard recognition and fame to the company that owns it. Mobile app developers try to make apps that enhance and justify the brand idea adequately.
Promote Brand Loyalty
Many firms, whether small businesses or big enterprises, build mobile apps, and want to create brand loyalty for their business. Mobile apps sufficiently promote the brand and their products or services. Mobile applications can assist in informing the administrator of the users' interests in particular deals and goods. Additionally, it can help management committees create tailored brand loyalty programs for the users.
Increases Sales
Brands can succeed by acquiring new clients with the aid of mobile app development. According to statistics, users spend more time on a company's mobile apps than on its mobile website. The mobile applications improve the company's reputation with its clients when they deliver the right type of information to the users.
Reduce On-premise Costs While Transforming The Retail Industry
Mobile apps are what most businesses are built on. By providing a distinctive customer experience, mobile apps enable merchants to satisfy customer expectations and revolutionize the retail experience. This helps to lower the overhead costs as compared to opening a brick-and-mortar store.
Allow for Quick Feedback Management
Mobile apps give clients a platform for providing feedback on the products and services they use. This assists businesses in better understanding their customers' perspectives. Brands can also use the feedback to improve their products and services.
Social Media Integration
When you include social network symbols and links in your apps, you can gain the maximum benefit in terms of audience generation across several platforms. Users can offer their opinion across several social media sites by incorporating social media buttons into their mobile apps. As a result, a mobile app is regarded as an excellent marketing tool for businesses.
Payment & Services
Mobile applications come with special features that are tailored to specific businesses. For instance, your app would be the greatest tool for your target clients to book an appointment if you work in the service sector, such as healthcare, spa, salon, etc.
Businesses can incorporate payment options into their apps to enable direct debit and credit card payments for consumers. These payment platforms are quick, easy to use, and safe. The preferred method of paying today is via mobile device.
Top Customer Data with Easy Access
You can easily and quickly access consumer data using mobile apps. Businesses have the chance to assess areas for improvement, the caliber of goods and services, etc. by looking at the app's review section.
Marketing On A Roll
The one craze because of which all companies hire mobile app developers is marketing. Mobile apps bring a crazy marketing role in the business. With their user-friendly and intuitive support, mobile apps let businesses sell themselves while they are on the road. An app with a wide range of features offers businesses particular value propositions.
Boost Client Interaction
Mobile apps help businesses create a direct marketing channel with their clients, enabling efficient and direct connections. You can reach as many clients as you want with an app by sending in-app and push alerts. The notifications that provide pertinent and important information connect with your clients and motivate them to stick with your business.
Saves Time By Scheduling
Mobile apps make customers' lives easier by providing one-touch access and a straightforward purchasing process. It saves time by receiving product and service information immediately.
Thanks to mobile apps, businesses can now plan and schedule appointments. Additionally, the software works automatically, which reduces the space of errors and instantly alerts companies.
Allow For Keeping Way ahead In The Game
With a mobile app, a business can stand out from others by generating significant revenue from loyal customers. You will be able to surprise your consumers with the latest techniques; thanks to the apps.
Wrapping Up
Mobile app development is the key to growth and success in business. All companies want to scale on the global level, and mobile applications are the biggest help. Choose the perfect mobile app development company that can meet your requirements and give you amazing results for your business.