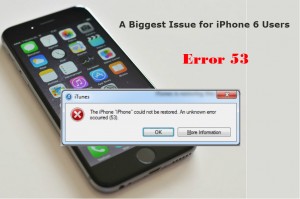 Recently who owns iPhone 6, many of them facing a great issue i.e. Error 53 message. When they try to update iOS 9 or later, A simple message will lock a device if they violate Touch ID security protocol before.
Latest and amazing news about Apple iPhone 6 is all about Error 53. Dozens of iPhone owner complaining that their touch Id is locked or the phone becomes a brick. Company's spoke person explained about this issue, if iPhone users upgrade their phone with the latest software or OS, and before that they repaired their phone from an unofficial technician due to screen damage or to fix cracked screen, they got an error 53 message that they locked and data stored on the phone.
Error 53 simply means either phone's fingerprint sensor has been replaced or broken. Either screen is replaced with unauthorized or faulty screen. Because, Apple gadgets must be repaired by apple certified technicians. But if people go for officially repair their phone, the cost is not affordable comparing with cheap unaccredited technicians.
According to the company, they take consumer security on the most priority. And Error 53 is the result of that security. This undertakes customers in protection against fraudulent Touch ID sensor not being used. Fingerprint information is protected by a software, checking fingerprints sensor match with device's other components of the iPhone as it was made by the company. If the check fails, Touch ID for Apple use is disabled. Besides this, error 53 might be triggered out with a factory restore even. And for this, you might not recover issue and buy new one Because, unofficial repair on Touch ID literally means you violate the warranty.
This is a remarkable issue nowadays for iPhone owners. They are facing the problem saying, it's appreciable technique that prevents data from being theft, but it's also the worse thing locking away all data without any prior warning. The premier reason behind this error 53 is analyzed that, lacking of enough Apple stores across the globe. And today Apple users scale has grown up high as mobile app development increased and if they are facing any problem with their phone many have trouble finding official technician,  they choose an easy solution with unofficial technician who either violates the warranty to resolve the issue.