It's a challenge to perform the mobile app testing. There are many types of testing such as manual, automated, cloud testing, etc. As per the advancements, many more tools are added to the manual testing. Actual mobile app users will quickly uninstall the app if they found any bug. The quality of the app you serve, also matters a lot. Mobile apps are supposed to perform well on the various operating systems and devices having diverse screen resolution.
Confronts of mobile app testing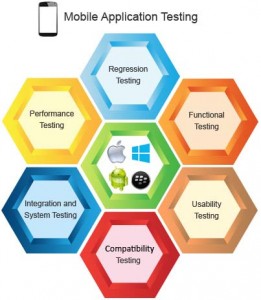 Functional:
In this division, each module of the mobile apps is tested. The experts make sure that all functions of the mobile apps are doing well. Many apps are already live in the app stores, for various industry sectors. With respect to them, your app must have a functional value with amazing modules.
App performance:
As of now, users expect a lot, from the mobile apps. It is crucial for the QA team to verify the app performance. They test the app with respect to the loading speed, response time, battery consumptions, memory required in the devices to download the apps, etc. When a value of all these factors decreases, the performance increases.
From the users' point of view:
Mobile app tester tests the app from the user's prospective. They just think that, they are the actual users. Verify the security considerations for the confidential data given by the users. Are the users' expectations are fulfilled by the mobile app? In this division, they also cross verify the validations and review the app becoming an honest user.
How app responding for the interruptions:
While the users are actually dealing with the apps, they may face some interruptions. During the installation or the in-app processing, there are chances that, the user has an incoming call. Thus, it is crucial to test that, how the app deals with the interruptions, network problems, etc.
Mobile Platforms:
All varied mobile operating systems offer the developer guidelines. It is a concern of QA team to make sure that, the mobile app development is done accordingly. Otherwise, there are more chances to get disapproval from the respective app stores.