by admin ,January 29, 2019
With so many reputable IT companies in India, it can often be taxing finding the right mobile app developer for your business. Here's how certain company comparisons can help you scout the best Indian app developer in the market.
A mobile app is a perfect informative link that connects people and for a business be it small or large-scale; developing a mobile app is an innovative way to acquire more customers.
The current era we live in makes one thing obvious, soon the whole world will be mobile and most people, online. Success for a striving business can be unpredictable but with a great mobile app, you can undoubtedly get an extra edge as an aspiring enterprise.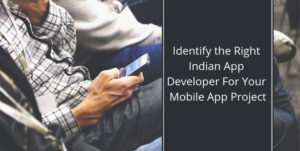 Why Opt For a Mobile App Developer/Development Company?
A standard mobile app gives you a seat alongside top competitors in the sector but the development journey can often be difficult.
A huge mobile app that boasts multiple functionalities as well as provides extensive services takes time to be developed and in most cases, no way can be developed in a short period by someone who has just started out on a mobile app development venture.
Here are few benefits that will make you believe why opting for a mobile app developer/development company from India can be the best decision you make for your business.
Indian developers are adept in developing iOS, Android as well as Windows apps.
Creative insights to match the vision.
Quality is never compromised and the developers will ensure 24*7 support in case your mobile app ever decides to glitch.
The app will be functional and responsive on all devices.
Out-of-the-world user experience assurance.
Knowledge about diverse domains, multiple apps (native, hybrid) and newest platforms.
Unique mobile solutions that are modern and yet, authentic.
Lastly, a professional team dedicated in developing a cutting-edge, top ranking mobile app.
How Comparing Companies Will Help You Find the Right Indian App Developer for Your Mobile App Project
Go for the right company:
With so many companies available in the market, opting for a reputed company can initially be a great choice but also come with a heavy fee rate. The first step is to do your research; a little investigation can go a long way.
Reach out to the Indian developer or development company you wish to work with and gain constructive insight to how the journey of your mobile app development will be like so that you can give the go ahead to a developer who perfectly suits to what you had in mind.
Flexibility in work based on different time zones
The price charges in India may be low but for the most part teaming up with an overseas company can often take a heavy toll on your schedule. The time difference between two completely different zones is large and this may hinder work communication.
Apart from that, if the Indian company supports flexible working hours and has developers working around the clock then that can be a great advantage as no matter what time of the day, mobile app assistance will always be provided.
Effective communication (Language-based)
Language barriers can often be a heavy deal as if communication regarding mobile app is nil then that might pose a huge problem when you finally get to see your work in hand. It is better to consider beforehand only if or not any language barriers are included or not.
The developer should be able to communicate efficiently and be fluent in English so that the mobile app development is done with ease, there are no misinterpretations and further provides no major communication deal breakers.
Charges per hour
For mobile app development, different companies based in different locations tend to charge more or less on an hourly rate. Asian countries will charge lesser on an hourly rate whereas a North American developer will burn a hole in your wallet.
Choose a location and an Indian company that makes a foolproof mobile app development scheme that fits your budget. Here is a little insight or a basic picture on how much different countries charge for app development per hour.
Bangladesh, India, Pakistan (Development cost): 10-25 dollars per hour.
Eastern Europe (Development cost): 25-40 dollars per hour
Western Europe (Development cost): 40-60 dollars per hour
Onshore US Companies (Development cost): 120-160 dollars per hour
Work quality
As there are so many development companies in India, simply comparing two companies does not suffice. Work quality should also be given the utmost priority. Of course, just giving the thumbs up to a development company without understanding the overheads or scrutinising the quality of work will not always work out well.
The advantage that Indian companies impart is that if you are not satisfied with their services or any results, you can stop working with them anytime you desire. Money matters can be managed but quality should never be compromised on!
Get Reviews, explore past work and scan product portfolios
Be an active networker, you never know when the need to develop a mobile app may suddenly arise. Building a strong network base can make you come across professionals who have had their own experiences with mobile app development in the past as well and will suggest an amazing app development company to you.
Moreover, social media can get you more active than ever. You can come across more people who have worked on similar brand ideas and business plans as well as read reviews posted by other influential people.
Also, scanning product portfolios of various mobile app development companies allow you into more valuable insights into their greatest project work to understand what you can expect from them and check other relevant work to make a more informed decision.
We hope our insights on how comparing companies on the basis of certain criteria can help you identify the right Indian app developer for your mobile app project was helpful to you. In the end, it is all about making the right choices for your business!