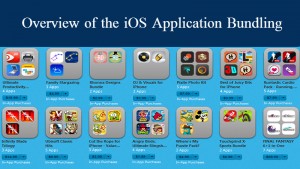 The app bundling has been introduced in iOS for the multiple paid applications. With this feature, the users can install multiple apps with the executable and graphics integrated together with the least cost. All the app developers and publishers can create the app bundles by grouping maximum 10 paid applications. When the user finds the app bundles, they can purchase it with the single tap.
A setup for the iOS app bundling is too simple. The app publisher gives a name of the bundle and then selects the apps of choice, fixes the cost. There are some criteria defined by iTunes Connect. There must be a reduced cost for the app in a bundle, with compare to the individual applications. An individual iOS app can be included in maximum three bundles at the same time. As the app bundles are becoming more popular, you must make a big plan for the app store optimization. Here are some points to refer for the effective app store optimization. The mobile app publishers will surely get the benefits by increased number of app installs.
Benefits for app publishers:
The app bundles offer a great upsell. People searching for the great deals will be attracted towards the app bundles because of reduced cost. Many publishers have noticed a good revenue after implementing the app bundles.
Reserve the Keywords in the description:
You must reserve the bundle names with keywords as many people are now surfing in the app store with the same. Make sure your description for the bundle is precise and more engaging. Include the most effective content that motivates the users to install the app bundle.
Include the finest app graphics first:
The order of the applications in Bundle matters, when more than four apps are included. In the main icon of a bundle, user can see the first four applications of iTunes. Design the icons smartly including the impressive themes and graphics.