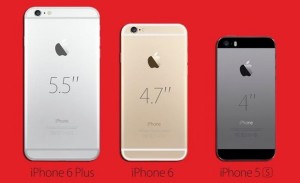 Apple INC has finally launched its most awaited decvices iPhone 6s & iPhone 6s plus. Apple has revealed its products at the event held in San Francisco. They have also launched Apple TV, iPad pro, and Apple watch to the world.
The resources reveal that, utmost design of iPhone6s and iPhone 6s plus is same as the previous model. But, the remarkable changes are the internal software based. External body color gold, space gray is replaced with the red rose gold color shade. In body manufacturing, 7000 series aircraft grade aluminium alloy is used.
The 3D touch technology is a center of attention in this new launch. Company is having confidence that, users will able to interact with the device in a funny and unique way. Live photos are there to bring your pictures to life. Added features of the devices are ion-strengthened glass, 64 Bit A9 chip, 12 megapixel iSight, 5 Megapixel Face Time Cameras, faster Touch ID, LTE, Wi-Fi support, etc.
Touch-sensitive layering is a key feature of iPhone 6s & iPhone 6s Plus. Force touch technology that is also known as 3D touch, facilitate the users to perform particular actions in different parts of the UI by giving different pressure of finger press. "Peek and pop" is one of the amazing features included in device. Users have to press lightly to peek at a photo, email, webpage, etc. A little deeper pop will lead you into the content itself. Create the shortcuts for the actions you do most or frequently, like messaging, calling or clicking the pictures.
Ion-X glass utilized in the screens is tougher than the sapphire glass. Apple has come up with the big updates in the processor and camera. iSight camara is there with the 12MP sensor and 4K capture. A-series chipset is included in the recently launched devices. This enables the iPhone's hardware and software to perform the best.