by admin ,November 11, 2020
Currently, there are two main platforms that users mostly operate their applications from, namely, iOS and Android. However, iOS is the one that is the most popular between the two. This is due to its various customer-centric as well as business-centric features alongside the comfort it has brought in the life of consumers, and the assistance it has given businesses in leveraging customer loyalty and taking it towards the next-gen level.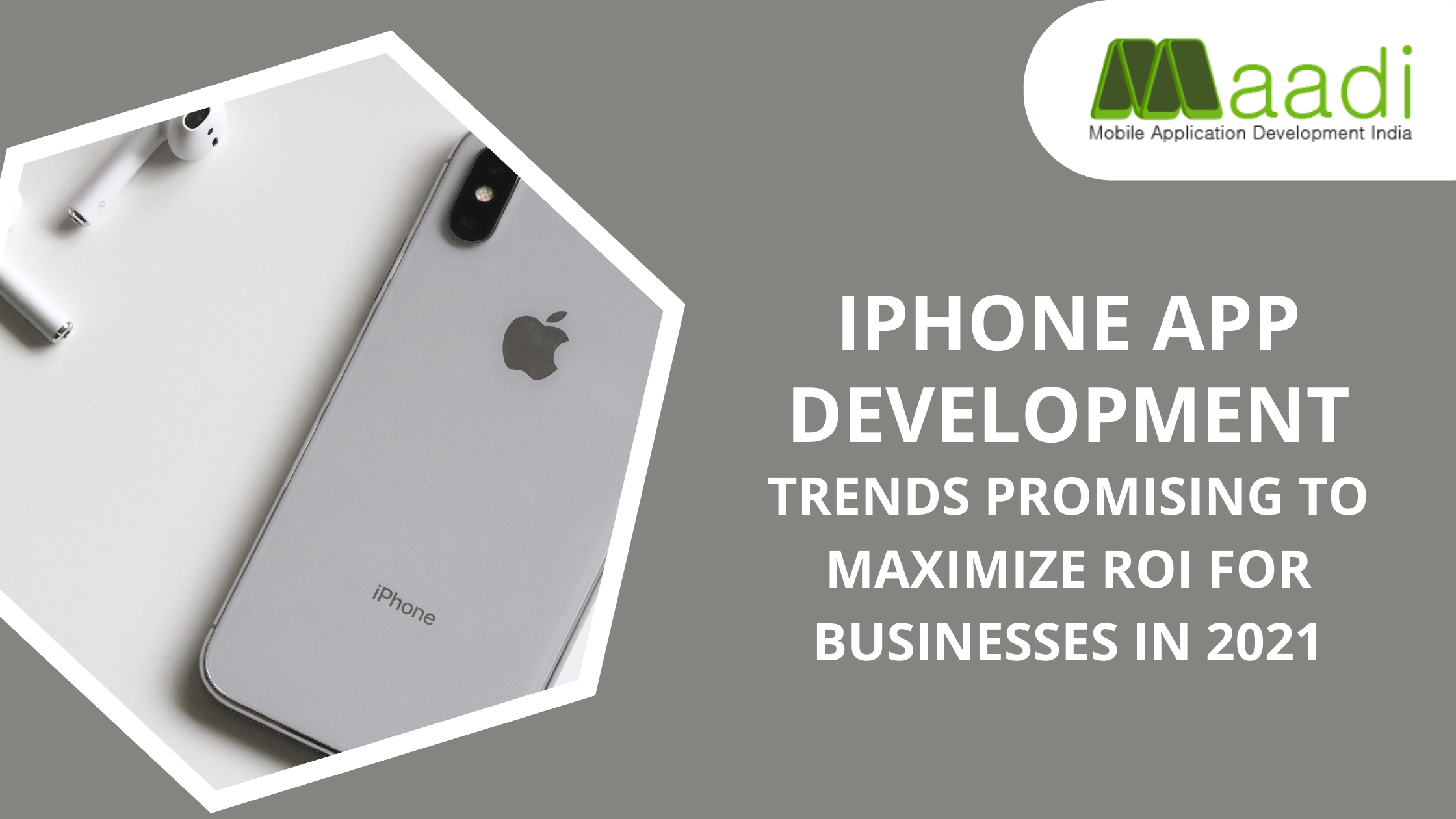 We have outlined some of these features in the points below.
First, let us take a glance through the customer-centric features,
Visually Appealing design
Robust workflow
Ensures the users of a hundred percent data protection guarantee
Having an idea now of the customer-centric features, take a glance through the business-centric ones,
Easy to update
User Retention is high
Issues of data breaches are less
These attributes are sufficient to give you an idea that the Apple platform is indeed the place where you can consider creating an app for your business venture. Since the same promises to boost the visibility of your services to a large target audience base, it will simultaneously also transport your business towards the next gen level, side by side. Thus, without much adieu, let us now look at some trends that will catch the views of a great number of spectators in 2021 according to companies that are specializing in iPhone app development in India.
Look at the graph below to notice the overall revenues that the mobile apps predict to make by the close of 2023 according to Statista.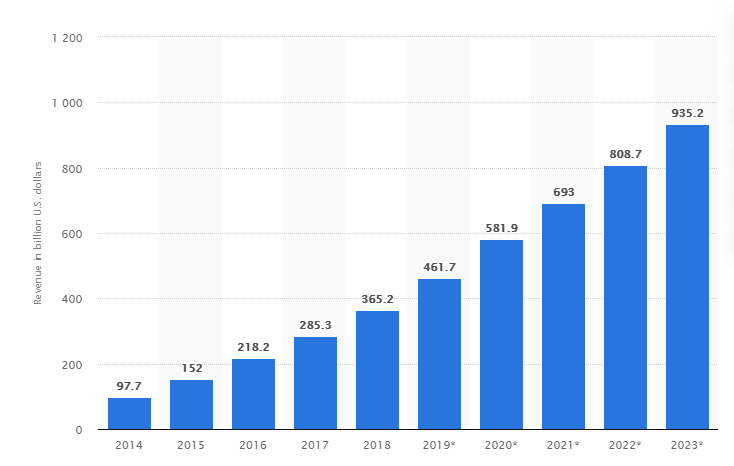 Image Reference – https://www.statista.com/statistics/269025/worldwide-mobile-app-revenue-forecast/
Top iOS App Development Trends for 2021
Latest Sirikit
Siri is probably one of the most popular assistants across the globe for its Apple Users. The latest one that comes in the first number of our top iOS trends has an extremely dense design. Allowing users to perform their different tasks through the audio feature, the same reduces the need for them to type thereby ensuring quick results. Finally, it provides the flexibility for app integration to take place on different platforms through shortcut APIs.
User Friendly Apple Pay
In 2021, there are chances that the Apple Pay app would become intensively more user-friendly in nature. This means, extremely easy, secure and reliable financial transactions taking place. Additionally, the need for them to save their debit/credit card details is not going to be so important. This is due to the embedding of the NFC or the near-field communication in the Apple device.
Machine Learning
The latest Machine Learning framework by Apple promises to make tasks in regards to QuickType, Siri, etc, revolutionary in nature. This is due to the presence of an extremely robust library in it that makes communication easy on Apple devices. Some of its other benefits include acting as a foundation stone for natural language processing, for domain-specific operations, supporting image analysis activities, and so on.
IoT
Fourth in our list of top iPhone app development trends, IoT has seen itself slowly and steadily achieving a good level of prominence among developers all over the world. It is a mode of communication between users and their smart phone device, thereby having an extremely revolutionary nature indeed. The trend will make it easier for users to connect their iOS apps to internet-enabled devices thereby making connection facilities considerably smoother as well as reasonably swifter for them.
Enhanced App Security
The launch of the iOS 13 version has given the iPhone app developers with the additional power to integrate ATS or App Transport Security into every app that they build on this platform. This means, the percentage of hacking and intruding into the digital hemisphere of a user's digital space will go down considerably. Therefore, in short, the app will be secure immensely.
Wearable Apps
Wearable apps have already gone onto opening a vast array of opportunities for the mobile industry. Devices like Appele Watch, Smartwatch, etc have taken the market by storm promising to do so even in the near future. This is due to the presence of extremely complicated features in them such as display control notifications, call management, and so on. This is therefore another trend you should keep a note of for 2021.
Summing up, to become a trendsetter in the world of business, you need to take advantage of these trends at the right time. You can also hire iPhone app developer in India from a leading iOS app development firm. They will give you considerable assistance on creating an app that makes you stand out among your competitors and maximize on your return on investments.