by admin ,January 1, 2016
In the general run of things, we all depended on mobile devices regularly for any purposes like: business deals, shopping online, entertainment, research and so on. Mobiles are more flexible & portable so we always have with us in pocket because it serves the great benefits. But, In this era of growing exponential attacks, mobile users and business people should adopt extra security, which protects system against danger. As we know by hiding themselves, cybercriminals are always finding the ways and techniques to attack on systems and harass business and mobile users to achieve greater personal advantages. So considering the matter, here are some cyber threats listed for mobile devices predicted in upcoming year 2016.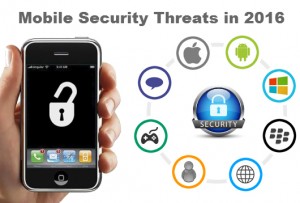 Payment services are a target for hackers:
Mobile payment services are in the focus for the unauthorized users to be compromised. This will not using wholly breaking payment processing algorithm system, but through analyzing entire channel, to recognize vulnerabilities or bypass measures from credit card information. According to our knowledge, stolen credit card data will be successfully used without bank verification and allow a fraudster also at some stores via peer to peer mobile applications. Likewise, similar techniques are also used for online dealing to transfer amounts from users account to hackers' dummy account.
Mobile browser hacking raised:
OS or kernel level exploit by hackers frequently noticed recently. Hacking via mobile browsers is one of the effective way to compromise security of the cellphone reason is, browser vulnerability exploits may permit hackers to bypass measures to many systems. So concerned security must have need installed as a protective step against this threat.
Eavesdropping or denial of service attack noticed:
Preloaded applications on the phones may not be validated via legal security teams so this will leads remote device hijacking threat. Open customizable feature of different mobile phones via OEMs will encourage this threat, so need OEM security for safety step regarding this situation. Some unsecured automatic network access or connection allows communication and insecure apps leak unencrypted data and credentials without the user's knowledge which hackers can notice. As a DoS attack attempt interrupt service by unavailing network resources temporarily is increasing day by day.