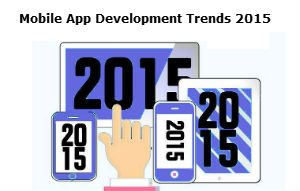 The past year 2014 was proved a revolutionary year in the sector of mobile app development. Millions of apps are live on the app stores that are created by the expert developers. Not all the apps are able to grab an attention of their targeted audience. One of the reasons behind app failure is that, an app does not match the users' expectations. The latest trends of app development for the year 2015 are:
App security:
App security is must. The developers must make the efforts to integrate the proved security threats. Applications always store the user side data. Information collected from the users must be put secured. Hackers are always active to trace the confidential data of the reputed enterprises. So, make sure to integrate required validations and security considerations.
App Analytics:
Enterprises keep their eyes to analyze the app performance. Many applications already have the big data. They are going to even big in the year 2015. The mobile app developers should have to arrive with the superlative solutions that lead to have the easy data collection.
In-app purchasing and Advertising:
It is the year for the more effective mobile app advertising. The expert and experienced mobile app developers make sure to integrate the advertisement with the app environment.
Rapid mobile app development:
As we all know, maximum business professionals want to have a dedicated mobile app to expand their businesses. They always have a plan to formulate the exclusive mobile app quickly. Thus, the developers are required to create the astonishing mobile apps consuming minimum time. Competition in the app store is too tough. Time being app launch is necessary; otherwise, the customers will quickly switch to the other competitors serving well.
Native apps decline:
It is found that, hybrid and cross-platform mobile apps are taking place of the native apps. This is the reason, why the popularity of native apps is decreasing. The cross-platform, phonegap and hybrid mobile apps are more expandable.