by admin ,January 8, 2019
The world is thriving on convenience-based technology solutions to make life simpler. No matter if you are a recent start-up or a mid-range enterprise, everyone needs a mobile application to be successful.
Currently, there are more than 7 million mobile applications to exist on all app stores but only 2% rank high on the success chart. An ingenious mobile app will set you apart from your competitors but the journey of its development process and its advancement is long and hard-won. Be it a start-up or an enterprise, a simple mobile app also takes well thought-out brainstorming, edgy creativity and a dedicated owner willing to give it all to achieve triumph.
Here are a few handful tips to be kept in mind while developing an app for a start-up or enterprise.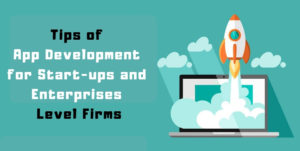 Be driven towards your vision
Every start-up vying for a successful venture needs a mobile app to gain more acquisitions in a short period. It's vital to be determined towards a specific goal and more importantly be focussed in achieving your vision.
The best way is to be driven towards a vision to win ultimately all by attaining the end goal. Putting on a calm and composed demeanour while working on a well sought-out foolproof plan is better than diving headfirst in all fields as a success-hungry enthusiast.
Boast an all-OS compatible app
Almost every person in the world owns a handy mobile device. Mobile App Development is bringing variance to all information technology sectors. However, not every user's device may support the same OS and it is important to develop a mobile app that is compatible on all platforms especially Android and iOS.
An all-OS compatible mobile app will maximize the user reach and globally attract people to draw in by large numbers making the enterprise a more profitable venture. The cross-platform approach based mobile applications will be extremely beneficial for enterprises to gain success.
Create a to-die-for user interface
An attractive user interface is a one-stop solution for more user engagement and successfully converted mobile app customers who believe in your brand as well as form a deeper connection for trusty enterprise perks.
The UI design should be super user-friendly, eye-catching and interactive as it is the first thing every user sees when he opens the mobile app. A boring UI could even destroy a possible user conversion, an extremely nonprofitable achievement for any enterprise.
Pull out the big bucks
If you have made a decision to be a big name, it is only right that you pull out all stops in making the mobile app a complete success. A product is not made great once the app is created, it is made perfect when it is developed brilliantly and nurtured carefully. Investment is key!
However as important as it is to invest money to make sure the product turns out right, it's equally important to research your options first and only put in money if it's viable.
Believe in all possibilities
Every enterprise plan has unlimited possibilities but every start-up or enterprise does not. In reality as your options are limited, it's only correct to figure out all demographics before committing to a solid plan. Money and time are valuable assets, it is best to put them to good use.
Think. Experiment. Believe!
Reel real users in. Keep them hooked!
Developing a quality mobile app with engaging content that is fresh as well as innovative will undoubtedly reel in more people who will be willing to invest in your idea. A strong community consisting of real people will reap more rewards for your enterprise as they can easily be converted to customers in the future when nurtured well.
Even if the number of customers is less, genuine customers are more profitable in the long run.
Build an engaged social media audience
Social media is a weapon for enterprises all around the world and start-ups can start by building strong social media profiles if they are starting from scratch. Users like to know what they are invested in, a social media presence of the brand on popular social media channels like Instagram or Facebook will keep the users more updated about everything that goes on and in return gain more favourable outcomes for the business.
In the end, every tip can be followed and every trick be tried but it's important to remember that success can only be achieved when you are dedicated to your mobile app!