Most of us use on a regular basis or iPad frequently. A device is nothing without the apps. Millions of applications are there in the store and people install them for their convenience. Many people now a day are searching for the iPad compatible designs. It is essential for the app designers to concentrate on the iPad app designing. Here are some tips to follow to create finest iPad app designs.
Layout must alter according to the orientation
Users must see the proper layout for the change of orientation. Faulty landscape does not look good and impressive. No one would like to use an app that is not having a suitable layout for the iPad devices. Hire app designers having sufficient knowledge of creating responsive mobile applications. They can define appropriate layouts with respect to all available devices and screen resolutions.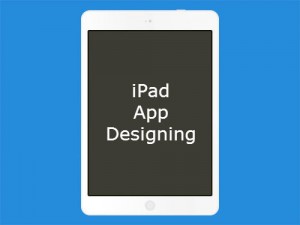 Include sleek navigation bar
iPad app designers must not overuse the touch buttons and sliding. They are eye pleasing and look dashing in the iPad apps. But, it is important to know that, the people want to reach the specified pages and modules for the minimum clicks. Designers have to use their creativity and smartness to integrate the links of main functionalities in one screen only. App users can conveniently make use of exclusive sleek navigation bars.
Never make more use gestures
iPad device is much more convenient and supports tapping and sliding. All the users are well aware about these functionalities. Do not overdo the designing and try to grab a user's attention there. It sometimes looks silly to over designing the modules, buttons, and other links. For the iPad application development, make the designs light and eye pleasing.
Instructions to use the apps
People sometimes feel hesitated to face too many instructions on the app usage. Mobile app designing must be simple and classic, so users can understand the modules easily. Complex designing makes it irritating to use. An app does not get success that having a thick user manual to refer. Experts create an app in a way that, the app itself becomes user manual. The hints and instructions, both are two different things. It will leave a positive impact, if you include hints for the users.