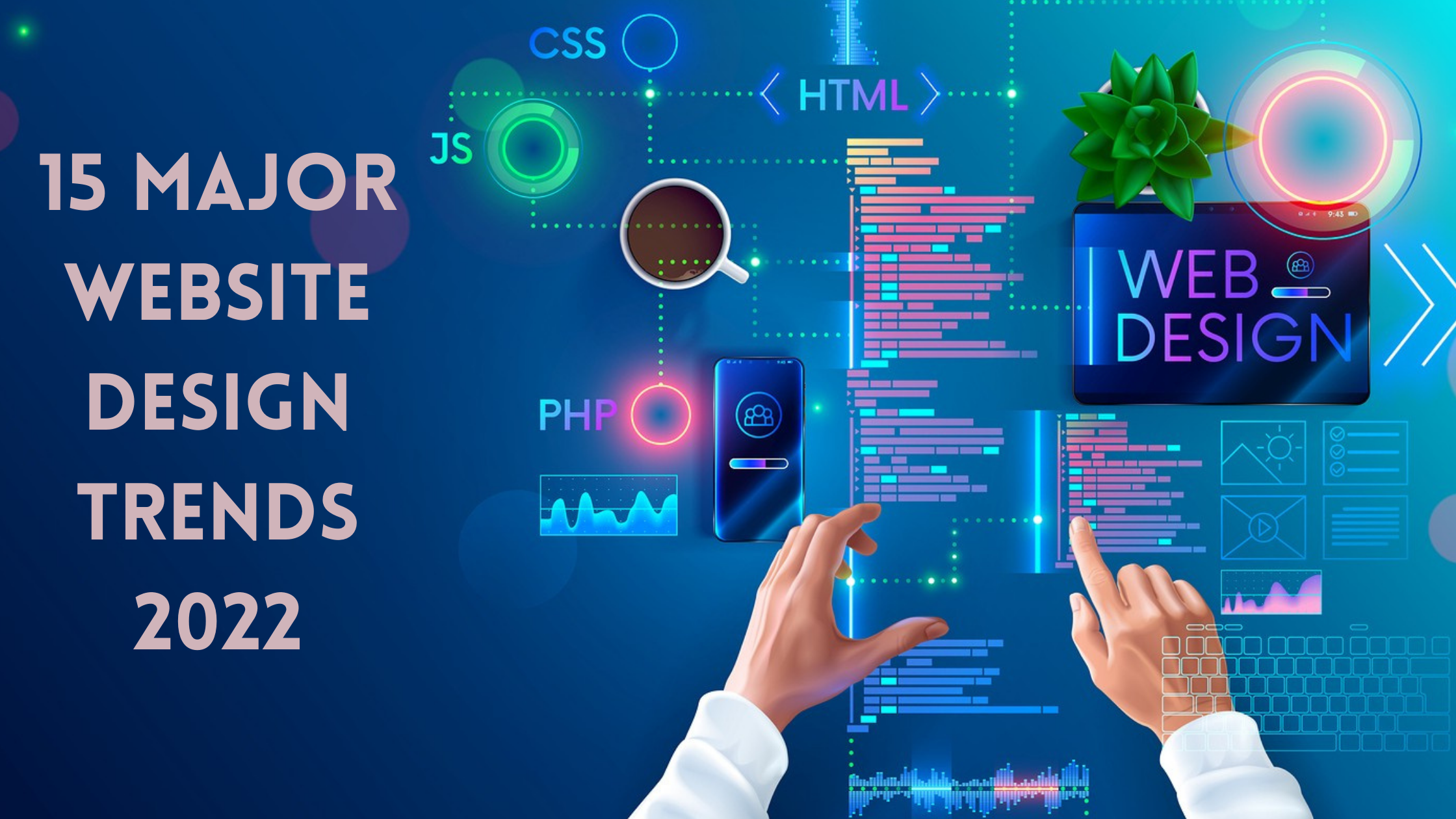 In order to impress the visitors and convert them, being your customer is a challenging thing. If your business cannot afford to build a mobile application as the mobile app development costs in India are higher but you can grow your business by building attractive and quality websites. There are way too many websites filled with info and services provided. Hence your website should be unique and be able to attract customers' attention.
As technology changes, fasts and latest trends keep changing according to the market needs. The same is for website design trends. Because once the designs that were innovative, trending, and unique may now be overdone, out of trend cliched in years.
To attract end-users to your website the web design procedure must really be encouraging.
Now questions may arise,
What are the web design trends in 2022?

What makes a great website in 2022?

What is the biggest web design trend this year?

The answer to these questions are the following unique trends for website designs in 2022
Videos as design components
The kind of omnipresent component in website design is always adding a video section in it. Whether it can be a promotional video for your products or a testimonial. Videos that can be completely informational for the end-users should be the main goal.
Videos can be the best way to involve the audience and rhapsodically deliver the entire data!
Website Load Time and Page Speed are the King
Ultra-fast loading time on websites is necessary and considered as one of the most important aspects of web design standards. Website performance has a direct impact on visitors and is expected to take no more than two seconds. Or else the users would leave the site! Hence ensure a good user experience with proper loading speed on your site.
Smart Content Load
Instead of having resource-heavy websites, where the users would not reach the bottom of the webpage.
A better approach to this can be developing the websites and downloading the content as per needs and further scrolling. Hence when it comes to infinity scrolling better loading the content or pagination is a better way. This even improves the conversion rate and ranking. 
You can even have Minimalism on your website, where there are certain designs only to pay human attention to. Doing this can help viewers for such web designs to easily be recognized and remembered. The bold background and clean text with minimal yet attractive designs create an eye-catching impression.
In case you want to build your online presence with the philosophy of  "less is more".
Depending upon your business needs, decide the smart content and designs accordingly for your website.
Dark Mode
Dark mode helps create an ultra-modern look for any website. One can really browse it in low-light environments. It even helps to highlight specific other elements. It is even helpful to reduce eye strains. Due to its aesthetic ends, it is trending currently amongst users.
Interactive 3D

 

Cartoon Illustrations
To stand out from the average web page it is better to develop something unique. And 3D effects and strategies are good examples of action. Illustrations adding 3D effects add the right concept in the creative procedure. And using cartoon illustration can be fun to scroll and makes it more interesting to view.
This helps the end-user get a realistic feel!
Light Colors & Retro Fonts
Opting for light colors is a favorable condition. And its unique approach attracts viewers to scroll more and stick to the website for more time. Using low saturated and comfortable colors, and texts like Retro fonts displays minimal looks. Additionally, the more elegant and natural feel can be acknowledged. This gives a fresh look to the site.
Voice-activated Interface
It really gives a nice impression if your website design has integrated with voice-activated interfaces. Because instead of typing something, we can evolve the site with voice chatbots or visual assistants. Though it has not yet been common currently but for future preference, it will surely be trending!
So you can definitely think of integrating Voice Search in your websites.
Neumorphism
Neumorphism is a type of design that majorly focuses on how the light will move. In order to create a natural 3D feel, light color shade is selected. This creates an emotional connection between the user and the design by creating such a responsive effect.
Parallax scroll Animations
The parallax effect is an optical illusion; which has been trending for many years and has continued to add more flair to the effect even in 2021. When applied properly gives a fantastic user experience. Used wisely at proper places can keep a thorough impression of a website.
Overuse of parallax animation can be irritating too! To create properly.
Blending Photos with Organic Shapes
The overlapping of the graphics on images is a unique approach to bring the level of creativity. This can help keep your views to stay engaged with your site. And due to high-quality standard visuals help you attract more customers.
Mixing photography with organic shapes is definitely good to go trend for your site in 2022
Gaussian Blur
This design majorly gives a main focus to the objects or say images on the site. Giving more prominent and clear space to the entire website for the content and images. This design has now been in the market for a while and will continue to stay. If in the hands of proper designers who can use this in a new and unique way can surely make an interesting website for your targeted audience.
AR/VR
This has become a smash hit on the internet. And these designs would surely continue to increase over the years. To showcase the reality of how the product would look like where you want it to place. This serves meaningful content on any of the business websites as helps to buy the product making right choice
More and more websites are opting for AR/VR which massively helps to turn random users to their customers. This one is surely the most top of the list of sought-after designs.
Data Visualization
For some websites to show data that can engage your users to make them want to learn more about your business. These data visualizations in which using graphs for infographics may help majorly bring data to life. Data visualization helps more to understand the complexity in simple terms. Henceforth a great way to have it designed on your website
Custom Cursors
Don't miss this small trend that is important, unique, and attractive too. Here we are talking about cursor actions. This can be fun because scrolling through your site can make them feel lively. Their state of transformation into other interesting things can be helpful.
Scrolling Cards
Scrolling cards have become an integral part of website designs. It is a unique and attractive design that is trending currently. It gives quality and standard impression to all the viewers. However, scrolling horizontally or even vertically adds snappy movements on the site with different visuals with different catchy colors along with the informative content.
This one is the best way to present information to all your viewers
FAQs About Web Design Tools
What are the costs of website designing?
Depending upon various other factors, complexities, and adding features to the country of the development team, the cost of web design varies. But major elements can be visual representations and security, henceforth can approximately cost you from Rs.15000 to Rs.50000 depending on your business needs. Instead, Contact Us to get the exact values for creating your website designs.
What makes a great website in 2022?
Some important elements to term a great website can be its structure, content user experience, security, and visual presentations. And it impacts greatly for the targeted audience to judge your brand quality which helps to boost sales, enhancing usability, and thus increases the company's values.
Why is a website important for any Business?
In order to improve the end user's web experience and to get the renewed interest in creating and growing their own business online presence offering convenience in the business.
What can be expected from website design trends?
To attract more customers to your business. And in order to make a great impact on everyone for your business's online presence using these design trends can really help. Attracting more and more customers leads to business growth.