by admin ,January 19, 2018
Technology evolved at a rapid rate in 2017 and it will still continue to grow in 2018. Many fields have seen development during this rapid growth. But the field that has seen the most development is the mobile app development field. With over 250 billion app downloads in just 2017, app development business has profited the most from this technological growth.
The companies of mobile app development are creating apps at a fast pace. One of the surveys suggests that there are over 30,000 apps submitted to iTunes app store every month and even more are published on competing platforms (like Android and Windows). The companies of mobile app development are not just looking to built apps but they also want their app to be successful.
There are several apps released every year and not every one of them is successful. Today, an application with latest mobile app trends becomes successful and to stay on the top you have to be really crafty with new mobile app trends. But what are these new mobile app trends? Read ahead to find out…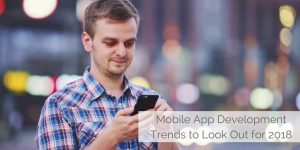 AMP (Accelerated Mobile Pages)
AMP is a mobile feature trend that every Mobile App Development companies should include in their app. AMP will enhance the loading speed of web pages which in turn will reduce the bounce rate and increase the user retention rate of your page. Hence, AMP can enhance the complete user experience of your application.
Cloud-based apps in enterprise mobility

Cloud technology is the first choice of any enterprise applications because of their requirement of a large database. From storing sensitive data to employee details cloud provides the flexibility of adapting according to the enterprise's requirement. The cloud-hosted apps are more secure and reliable than any other approach to centrally host all sensitive data on a single server.
IoT (Internet of things)

One of the most trending features these days is the IoT. IoT is a physical network of various electronic devices (like automobile, Television, home appliances etc) under a single IoT ecosystem. It will not only make a difference in the retail sector but also influence various sectors (like healthcare, automotive, education etc). The accuracy and the standard of connectivity are improved in new devices making them connected seamlessly to an IoT ecosystem.
Augmented reality
Augmented reality helps add digital and visual information to give a more realistic outlook on virtual things. Augmented reality has surely taken the multimedia domain to new heights. Every platform whether its iOS or Android are in a constant process to make augmented reality experience better. AR has stretched its limits beyond gaming and entertainment and stepped into the online shopping sector. That is the reason augmented reality is trending nowadays.
People are in constant search of new features in a mobile app and hence, it becomes mandatory for the app development companies to integrate this latest features in their respective applications. So without any further due you should embrace these new technological trends and include it in your mobile application.